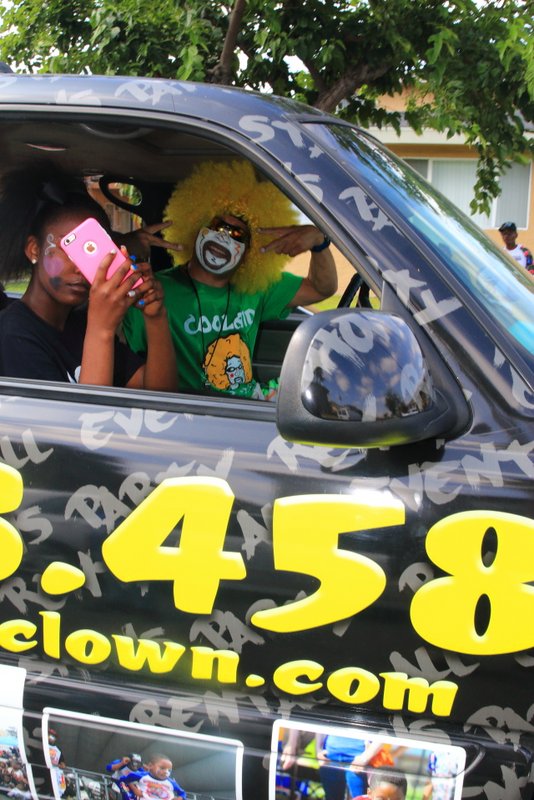 Dear Friends,
It all started for Stanley Alexander while attending Morningside High in Inglewood, California. Stanley played the trumpet and coronet in the marching band where he was taught self discipline, the value of hard work, dancing, and life skills by the marching band director, Tommy Van Bruin. Mr. Van Bruin inspired Stanley to be the best he could be, and for that he will always be forever grateful for Mr. Van Bruin's words of encouragement.
Back in the Late  90's, Stanley entertained children of all ages by performing at parties as characters such as the Power Rangers and Ninja Turtles. As trends changed, Stanley was inspired beyond these roles and looked for other activities to motivate him. Tommy The Clown (not to be mistaken for Mr. Van Bruin) was working the same circuit, clowning and dancing… Tommy The Clown became a mentor for Stanley, and subsequently Coolaid The Clown was born.
Coolaid began clowning in 1999 and currently he and his crew also known as Coolaid The Clown & His Buck Dancers are taking it to the next level. Once you see them perform then you will understand the meaning of Buck dancing, which stands for clowns getting buck wild.
In an effort to give back to the community and share the valuable tools of inspiration Stanley has received, he is currently running a Krumpaerobics class and other programs for inner city kids in the Los Angeles County neighborhoods to provide children a positive atmosphere, in the hopes that they will strive for a better life instead of gangs, drugs or choosing other dangerous paths. The program is rapidly growing, I'm proposing to raise funds to continue this great program.
My goal is to obtain funding in order to continue to provide the fundamental art of dance and fitness while teaching the value of self worth, hard work, and discipline, a healthy body must also have a healthy mind.
This is why I am seeking your help. Any and all donations would be greatly appreciated and I can assure you all donations will go towards this much worthy and needed cause.
Let's continue providing our children with the tools they need to succeed!
Thanks in advance!
Coolaid the Clown